Geotagalog 2.0 beta
2010 April 29
It's finally here.
...almost.
Geotagalog 2.0 is now in public beta. Please report any issues or confusion you encounter. So what is Geotagalog 2.0? What's new?
Executive summary
Now properly handles photos that are already imported into iPhoto.
Can assign iPhoto Places without modifying original files.
Can optionally geotag photos without any iPhoto import.
New "geotag helper" does the slow work in the background.
Now requires Snow Leopard (10.6)
Visual summary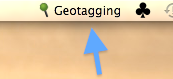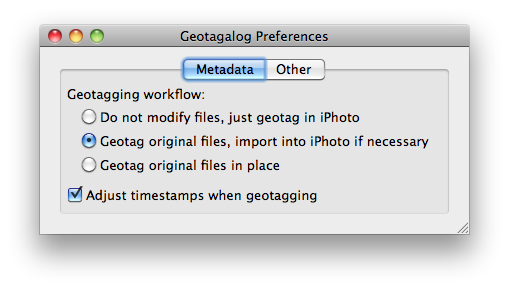 As I've mentioned before, I'm really excited about these new features. Geotagalog 2.0 doesn't look much different than 1.5, but these behind-the-scenes changes make Geotagalog much more powerful. And flexible. Without adding much complexity. (It was hard.)
Quick start


If you just want your pictures to show up in iPhoto's Places, just use Geotagalog like normal. When you want to tag photos that are already in iPhoto, just load the tracklog as usual. Then simply drag photos from iPhoto and drop them onto Geotagalog. (Or select them via the Media section of the "Choose files and folders..." dialog.) Geotagalog will automatically detect that they are part of your iPhoto library and not try to import them a second time. Of course, if the photos are still on your camera or memory card, they'll automatically be downloaded and imported into iPhoto just like in Geotagalog 1.x.


If you really need to write the geotags to the original files, you'll need to go into Geotagalog 2.0's preferences and choose the "Geotag original files, import into iPhoto if necessary" workflow option. This is similar to the first option in that it imports into iPhoto only when the photos aren't already in your library. The key difference is that if your photos are already in iPhoto, they will be added to an album called "Rescan for Geotagalog" and you will need to select them all, right click and choose "Rescan for Location" before they show up in Places.


And finally, if you don't use iPhoto at all and just want to easily and visually add geotags to your JPEG and RAW photo files, you'll need to set the workflow preference to "Geotag original files in place". With this option, the files you drag in or select via "Choose files and folders..." are simply geotagged in place on disk.
Upgrade
If you bought Geotagalog 1.x after 2009 October 22, the upgrade was included. If you bought Geotagalog before then, the upgrade to 2.0 costs $15 (40% discount). If you don't have a Geotagalog license, the full price remains at $25 for now. Use our handy license upgrade page to check your status and generate your free or discounted upgrade coupon.
Download


Download Geotagalog 2.0 beta
Requires Mac OS X Snow Leopard (10.6)
I plan to make a video screencast and update the tutorial and product page and help file with more details during the beta, but I didn't want that to delay this release. If you have any questions whatsoever, leave a note in the comments or send me an email.
Update/download
Geotagalog is now a free app, although it is still in beta until I can update the help files and a few other loose ends. See this post for details.


Download Geotagalog 2.0 beta 2
Requires Mac OS X Snow Leopard (10.6)