Sesamouse 1.2 adds top-requested features
2010 March 10
Sesamouse is most exciting when it's enabling other applications to use the Magic Mouse for multitouch. One of the most frequent requests has been to get rid of the Dock icon. Starting with version 1.2, Sesamouse sends real Magic Mouse pinch zoom and rotate gestures from the background, with a menu bar icon instead.
While Sesamouse's primary feature is real multitouch gestures and NSTouch information for Cocoa apps, it can be very handy to trigger Exposé or other Mac OS X features from the mouse. So Sesamouse 1.2 also adds optional support for a few commonly-requested system hotkeys: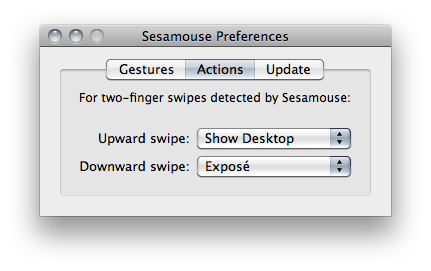 Mighty Mouse users might still miss activating these features in "hold" mode, but these gesture shortcuts are easy to set up for those who find them helpful. Rather than having fewer productive features than the previous model, the Magic Mouse can provide real multitouch and some handy shortcuts — when used with Sesamouse, that is!
If you've found Sesamouse useful, don't forget to donate. We're still asking on behalf of Haitian small businesses, because the work there isn't done. If you haven't found Sesamouse useful, please let us know why.